H07RN-F cable is the so-called flexible rubber wire, this model is the wire exported to European countries. Usually, we call it: (VDE rubber wire, rubber cable wire, rubber wire, outdoor rubber wire, etc.).
It is highly flexible and has resistance to weather, oil/grease, and mechanical and thermal stress.
Applications include handling equipment, mobile power, construction sites, stage and audio-visual equipment, port areas, and dams.
It is also suitable for plaster fixtures, temporary buildings and dwellings, drainage, and sewage disposal in military camps, cold environments, and harsh industrial environments.
We are manufacturer and supplier of PVC insulated and sheathed cables. We offer PVC insulated and sheathed single and multi core cable wholesale, and a wide range of flexible rubber cable at low prices.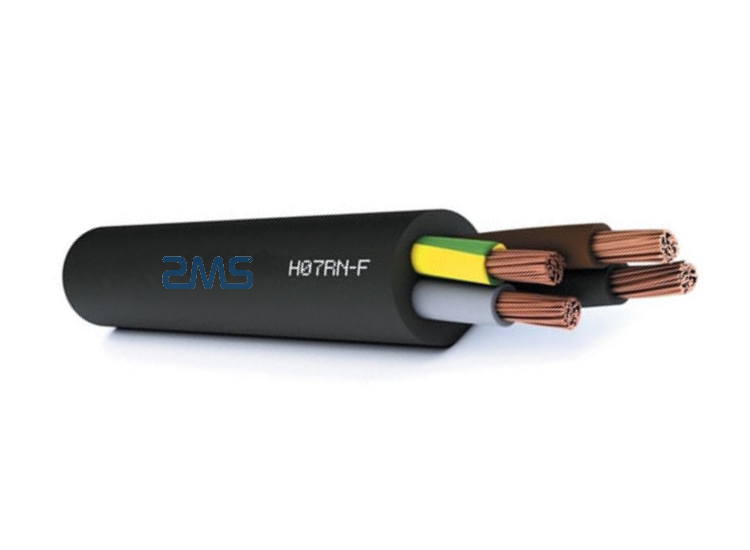 Product Structure and Characteristics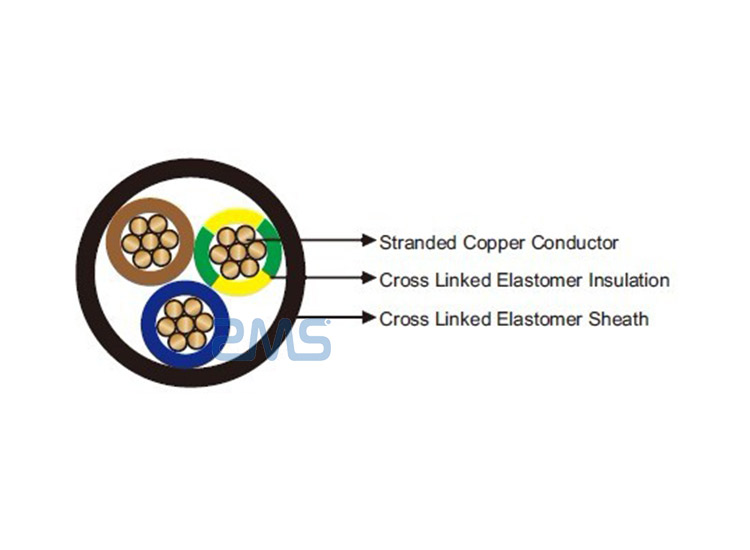 Conductor material: bare copper
Conductor structure: fine stranded wire, grade 5
Insulation: Rubber (EPR) EI4
Sheath material: rubber (CR) EM2
Flame retardant: VDE 0482-332-1-2/IEC 60332-1
Oil resistance: EN 60811-2-1
Ozone resistance: Yes
Max. temperature at Conductor: 80 °C
Max. working temperature. Fixed: -25 – +80 °C
Temperature, mobile/installed When installed: -25 – +80 °C
Nominal voltage Uo: 450 V
Nominal voltage U: 750 V
Test voltage: 2,5 kV
Core identification: colors according to VDE 0293 (HD 308). more than 5 cores: gn-ye + numbers. vde 0293 (HD 308). More than 5 cores: gn-ye + digital
H07RN-F Technical Characteristics


Applications: For use in dry, humid, and wet locations and under moderate mechanical pressure in free air. It can also be used for fixed installation on plaster or machines. This types of filexible rubber cable is resistant to oil, UV radiation, and ozone.
It has certain weather resistance and certain oil resistance, suitable for outdoor or contact with oil and dirt.
The cable is flame retardant and meets the requirements of GB/T18380.1-2001 for single vertical burning.
Flame retardant: flame retardant and self-extinguishing by IEC 60332-1-2
ZMS wire and cable company produce flexible cables including H077RN-F flexible cable, and also produces flexible cables such as European standard CE certified H05RN-F, H05RR-F, HO7RN-F, S05RN-F, etc. ZMS can help you choose the cable products more suitable for you. Contact us for more product information and more competitive prices on flexible cable products.
ZMS has a wide range of cable and wire products for you to choose from. We will provide caring services and professional project solutions for everyone who needs them.
Quality Certification Services
ZMS cable products are manufactured according to GB, IEC, BS, NFC, ASTM, DIN, and other international standards. Our technical team can customize cable products that meet your requirements according to your need.
Profession Customer Service
ZMS provide free professional consulting services to provide you with one-stop project solution services and rapid product delivery solutions.
Delivery And Shipping Services
While ZMS provides high-quality cables, we also provide good delivery solutions. While ensuring the safe delivery of products, we provide the best packaging and transportation solutions, greatly reducing customers' transportation costs.
ZMS cables packaging are provided in the form of wooden reels, corrugated boxes and coils. The cable ends are sealed with BOPP self-adhesive tape and a non-hygroscopic sealing cap to protect the cable ends from moisture. We can print the required marks on the outside of the barrel with waterproof material according to customer requirements.