ZMS Cables manufactures a wide range of cables with high-temperature, low-sag conductor(HTLS Conductor) materials. Including: ACSS and ACSS/TW, G(Z)TACSR, Invar Conductor types, ACCR, ACCC/TW Conductors, etc.
HTLS Conductor Cables Manufactured by ZMS are Characterized by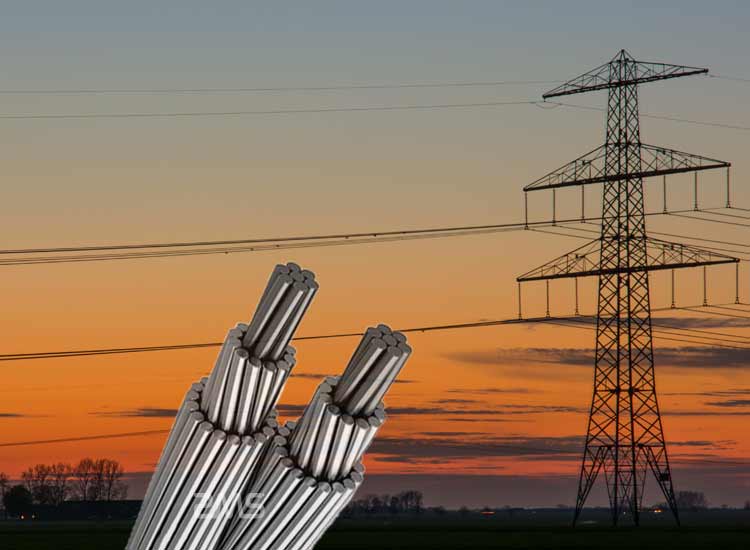 Common High-Temperature Low Sag Arc Conductors Include
Today's increased demand for electricity, the increasing difficulty of erecting the line corridors required for new overhead lines, and the rapid rise of renewable energy generation. There is an urgent need for transmission upgrades and transmission expansion. High-temperature low sag conductors (HTLS conductors) are a new technology for upgrading transmission lines to increase the thermal rating to improve transmission capacity. HTLS conductors can operate at high temperatures (100 °C and above) for extended periods without significant deterioration in tensile strength or other mechanical, electrical, or chemical properties. The tensile length at the same temperature is significantly lower than that of conventional aluminum or steel core aluminum conductors.
ACSS and ACSS/TW—(aluminum conductor steel supported/Trapezoidal wire, ACSS/TW), trapezoidal/steel core soft aluminum stranded wire. Annealed aluminum stranded wire + conventional steel core, operating temperature up to 250 °C.
G(Z)TACSR—(Gap-type Thermo-resistant Aluminum Alloy Conductor Steel Reinforced). Gap-type steel core heat-resistant aluminum alloy strand, the operating temperature can reach 150℃.
Invar Conductor—(Z)TACIR-ZTA1(Extra heat-resistant) Aluminum Conductor Invar Steel Reinforced. 210℃.
ACCR—(Aluminum Conductor Composite Reinforce). Aluminum-based ceramic fiber core aluminum strand, continuous operation temperature 210℃, short time 240℃.
ACCC/TW—(Aluminum Conductor Composite Core). Soft aluminum stranded wire with a carbon fiber core, continuous running temperature 180℃.
Characteristics of HTLS Core Materials

Core Conductor Material
Minimum Tensile Strength(MPa)
Modulus of Elasticity(GPa)
Min. Divine Length(%)
Coefficient of Linear Expansion
Allowable Operating Temperature(℃)
Continuous
Short-time
Galvanized Steel
1379~1448
206
3.0-4.0
11.5
180
200
Zn-5A1-MM Steel (B802)
1379~1448
206
3.0-4.0
11.5
250
350
High Strength Galvanized Steel (B606)
1517~1620
206
3.0-3.5
11.5
180
200
Zn-5A1-MM Steel (B803)
1517~1620
206
3.0-3.5
11.5
250
350
Ultra-high Strength Galvanized Steel
1827~1965
206
3-3.5
11.5
180
200
Zn-5A1-MM Ultra High Strength Steel
1827~1965
206
3-3.5
11.5
250
300
CTC ACCC/TW
2137~2482
114
2.0
1.6
180
200
3M ACCR
1379
220
0.64
6.0
250
300
Aluminum Clad Steel(AW) 20.3% IACS
1034~1344
162
3.0
13.0
150
200
Aluminum Clad Invar Steel 14% IACS
1207~1276
152
3.0
3.7
210
240
Products of HTLS Conductors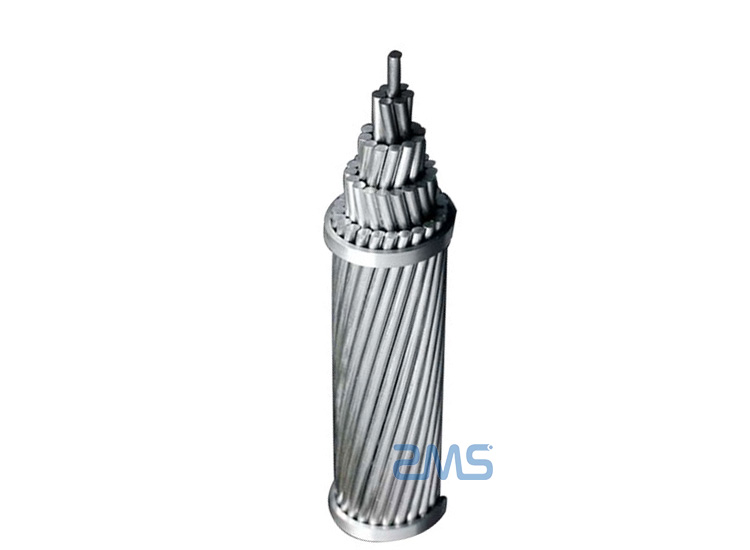 ACSS and ACSS/TW—Aluminum Conductor Steel Supported/Trapezoidal Wire
The product consists of a round or trapezoidal fully returned aluminum strand (1350-0) with high strength, ultra-high-strength (EHS), extra high strength (UHS) steel core.
ACSS is capable of operating at high temperatures with the same arc droop as ACSR.
The steel core wire has a hot-dipped galvanized, aluminum-clad, Zn-5% Al-MM Gafan anti-corrosion coating. With conventional hot-dipped galvanized steel cores, the wire runs at 180 °C.
And with conventional hot-dipped galvanized steel core, the wire running temperature can reach 300℃.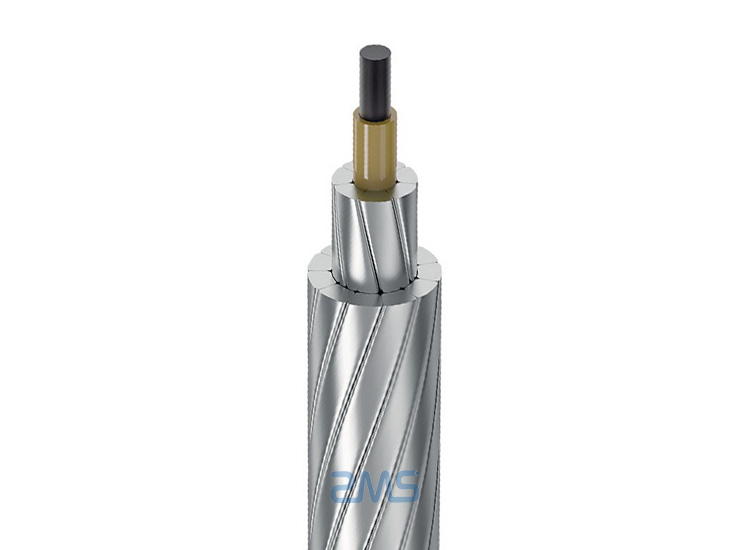 ACCC/TW—Aluminum Conductor Composite Core
ACCC/TW conductor is a new type of advanced conductor.
It consists of a round or reminder fully annealed 1350-0 aluminum stranded wire (ACCC/TW) with an advanced carbon fiber/glass fiber polymer-based composite core single rod.
The outer surface of the carbon fiber core rod is covered with a glass fiber insulator, so that there is no contact potential difference between the core rod and the aluminum strand, protecting the wire from electrochemical corrosion.
ACCC/TW effectively increases the cross-sectional area of the green wire by 30% over the same diameter ACSR. As a result, its load capacity increases significantly.
ACCC/TW wire has the advantages of light mass, large span, high tensile strength, small arc sag, low line loss, high conductivity, high load capacity, high operating temperature (up to 200 °C), and good corrosion resistance.
It is the best HTLS conductor with the best application prospect at present.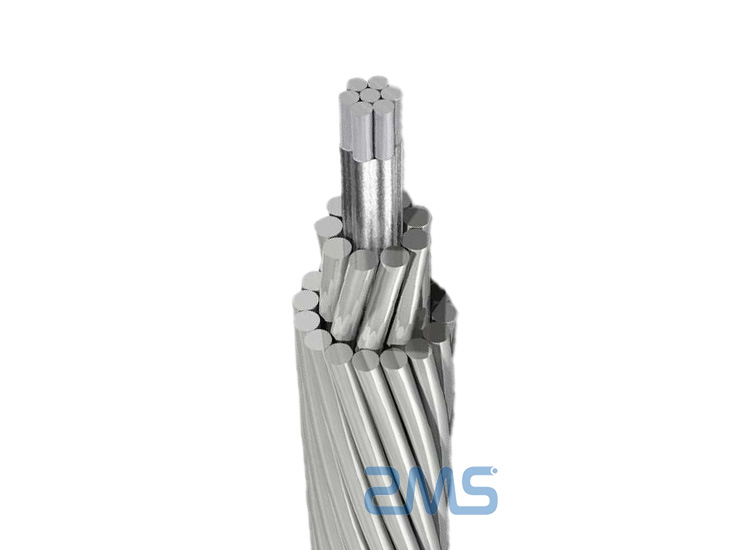 ACCR—Aluminum Conductor Composite Reinforce
ACCR consists of an AT3 aluminum-zirconium alloy with an Al2O3 ceramic limit-reinforced aluminum matrix composite core wire.
The aluminum matrix composite core wire is similar in strength to steel and at the same time similar in mass to aluminum.
This results in a lighter wire with better electrical conductivity.
The aluminum matrix composite core has a high modulus of elasticity and a low thermal stretch (1/2 that of steel).
ACCR conductors are mainly used to replace old conductors with severe ice cover and minimal high-temperature low sag clearance.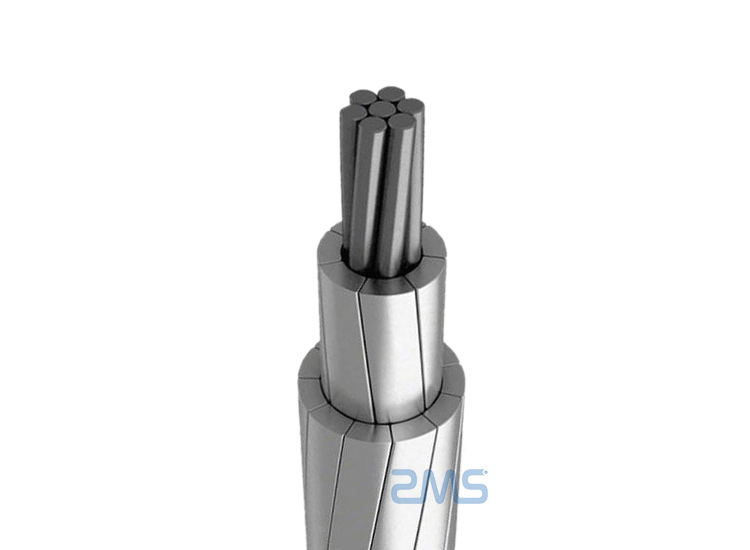 G(Z)TACSR—Gap-type Thermo-resistant Aluminum Alloy Conductor Steel Reinforced
This product is made with a gap between the ultra-high strength galvanized steel core and the inner trapezoidal heat-resistant aluminum-zirconium alloy layer to allow the wire tension to be fully borne by the steel core.
The G(Z)TACSR conductor is complex and labor-intensive to install.
It requires disassembly of the aluminum wire at each termination and connection to expose the steel core.
The addition of a small amount of Zr raises the recrystallization temperature of aluminum, significantly improving the load capacity and annealing characteristics.
The wire can be run continuously at 210 °C without any reduction in tensile strength.
Service of ZMS Cable Company
ZMS has a wide range of cable and conductor products for you to choose from. We will provide caring services and professional project solutions for everyone who needs them.
Quality Certification Services
ZMS cable products are manufactured according to GB, IEC, BS, NFC, ASTM, DIN, and other international standards. Our technical team can customize cable products that meet your requirements according to your need.
Profession Customer Service
ZMS provide free professional consulting services to provide you with one-stop project solution services and rapid product delivery solutions.
Delivery And Shipping Services
While we ZMS provide high-quality cables, we also provide good delivery solutions. While ensuring the safe delivery of products, we provide the best packaging and transportation solutions, greatly reducing customers' transportation costs.
ZMS cables packaging is provided in the form of wooden reels, corrugated boxes, and coils. The cable ends are sealed with BOPP self-adhesive tape and a non-hygroscopic sealing cap to protect the cable ends from moisture. We can print the required marks on the outside of the barrel with waterproof material according to customer requirements.