HTLS Conductor Cables — ACSS Cable
ZMS Cables manufactures a wide range of cables with high-temperature, low-sag conductor(HTLS Conductor) materials. Including: ACSS and ACSS/TW, G(Z)TACSR, Invar Conductor types, ACCR, ACCC Conductors, etc.
ACSS is an HTLS Conductor cable. It is primarily used for overhead distribution and transmission lines. It is designed for continuous operation at temperatures up to 250°C without loss of strength. Under electrical load, it sags less than comparable ACSR. Moreover, its final sag is not affected by the long-term creep of aluminum. These points make ACSR particularly useful in reconstruction. In new overhead line applications, structural savings and increased current carrying capacity are possible due to reduced conductor sag.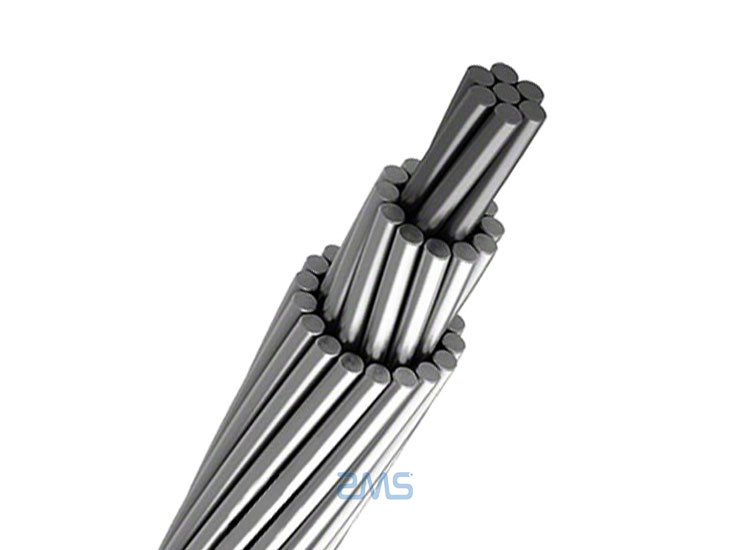 Aluminum Conductor Steel Supported – ACSS Cable
ACSS is a composite concentric stranded wire. It consists of a round aluminum 1350-O wire and a round coated steel core. The steel core carries most or all of the mechanical load of the conductor. The steel core wire is coated with a zinc-5% aluminum-mixed rare earth alloy layer to prevent corrosion. We can customize corrosion protection to suit your actual conductor exposure environment.
Standard
Q320623 AP 32, IEC 61089, IEC 62219, ASTM B609, ASTM B851, ASTM B856, ASTM B857
ACSS Cable — Technical Characteristics
Code
Strucure
Areas
Diameter
Breaking load
DC resistance at 20℃
Weight
Current capacity in 150℃
Al
Steel
Nos./mm²
mm²
mm
kN
Ω/km
Kg/km
A
150/25
15/3.52
7/2.06
169.3
15.65
49.7
0.1915
585
718
185/30
20/3.45
7/2.33
216.81
17.71
63.6
0.1495
749
844
210/35
20/3.67
7/2.48
245.81
18.84
72
0.1321
848
916
240/40
20/3.94
7/2.66
282.74
20.22
82.9
0.1146
977
1005
250/40
26/3.50
7/2.70
290.23
20.49
85.3
0.1118
1004
1022
300/40
26/3.87
7/2.72
345.91
22.33
88.6
0.09141
1158
1161
300/50
26/3.83
7/2.96
347.71
22.42
102.5
0.09333
1203
1151
350/55
20/4.72
7/3.20
406.25
24.24
119.8
0.07988
1406
1275
400/45
24/4.55
7/2.80
433.33
24.96
98.8
0.0716
1413
1358
400/50
21/4.94
7/3.08
454.65
25.6
115.5
0.06943
1520
1391
400/65
23/4.72
7/3.42
466.76
25.98
137
0.06946
1613
1397
500/50
36/4.19
7/3.00
545.87
27.99
116.2
0.05657
1763
1584
500/65
36/4.20
7/3.44
563.82
28.5
143.9
0.05638
1894
1597
630/65
36/4.76
7/3.44
705.69
31.83
152.1
0.04383
2285
1873
Note
1. Ambient temperature 40℃, Wind velocity 0.5 m/s, Wind direction: 0 Degree, Solar radiation 0.1w/cm2, Absorptivity of conductor surface 0.9.
2. Other designs according to customers' requirements.
3. We also can design according to the ASTM B856, ASTM B857.
HTLS Conductor Cables Manufactured by ZMS are Characterized by
Common High-Temperature Low Sag Arc Conductors Include
Today's increased demand for electricity, the increasing difficulty of erecting the line corridors required for new overhead lines, and the rapid rise of renewable energy generation. There is an urgent need for transmission upgrades and transmission expansion. High-temperature low sag conductors (HTLS conductors) are a new technology for upgrading transmission lines to increase the thermal rating to improve transmission capacity. HTLS conductors can operate at high temperatures (100 °C and above) for extended periods without significant deterioration in tensile strength or other mechanical, electrical, or chemical properties. The tensile length at the same temperature is significantly lower than that of conventional aluminum or steel core aluminum conductors.

1. ACSS and ACSS/TW—(aluminum conductor steel supported/Trapezoidal wire, ACSS/TW), trapezoidal/steel core soft aluminum stranded wire. Annealed aluminum stranded wire + conventional steel core, operating temperature up to 250 °C.
2. G(Z)TACSR—(Gap-type Thermo-resistant Aluminum Alloy Conductor Steel Reinforced). Gap-type steel core heat-resistant aluminum alloy strand, the operating temperature can reach 150℃.
3. Invar Conductor—(Z)TACIR-ZTA1(Extra heat-resistant) Aluminum Conductor Invar Steel Reinforced. 210℃.
4. ACCR—(Aluminum Conductor Composite Reinforce). Aluminum-based ceramic fiber core aluminum strand, continuous operation temperature 210℃, short time 240℃.
5. ACCC—(Aluminum Conductor Composite Core). Soft aluminum stranded wire with a carbon fiber core, continuous running temperature 180℃.
Service of ZMS Cable Company
ZMS has a wide range of cable and conductor products for you to choose from. We will provide caring services and professional project solutions for everyone who needs them.
Quality Certification Services
ZMS cable products are manufactured according to GB, IEC, BS, NFC, ASTM, DIN, and other international standards. Our technical team can customize cable products that meet your requirements according to your need.
Profession Customer Service
ZMS provide free professional consulting services to provide you with one-stop project solution services and rapid product delivery solutions.
Delivery And Shipping Services
While we ZMS provide high-quality cables, we also provide good delivery solutions. While ensuring the safe delivery of products, we provide the best packaging and transportation solutions, greatly reducing customers' transportation costs.
ZMS cables packaging is provided in the form of wooden reels, corrugated boxes, and coils. The cable ends are sealed with BOPP self-adhesive tape and a non-hygroscopic sealing cap to protect the cable ends from moisture. We can print the required marks on the outside of the barrel with waterproof material according to customer requirements.