ZMS Submarine Cable have three main markets: offshore oil, transoceanic power transmission and offshore wind power. When the cable needs to perform some special and very special applications or tasks, the standard cable can not solve the technical problem correctly, then special cables or hybrid cables are needed to solve these special applications. In these special applications, the tasks required are usually more demanding.
In the continuous development and progress of our ZMS Electric Company, the range of special cable capabilities is also growing, and you can always find special cables that meet your special requirements. If no special cable meets your requirements, we can customize cables with special characteristics for your special application in order to achieve your specific purpose or task.
Kind of the Submarine Power Cable Products
Medium voltage submarine power cable
Product 1 --- XLPE Insulated AC Medium-voltage Submarine Cable With Fiber Optic Cable
These submarine cables are suitable for power transmission in areas such as offshore islands, oil platforms, rivers or lakes. The cable is designed according to international standards such as VDE, IEC and ICEA or according to customer's standards.
Standard
IEC 60228; IEC 60502;IEC 60840; IEC 62067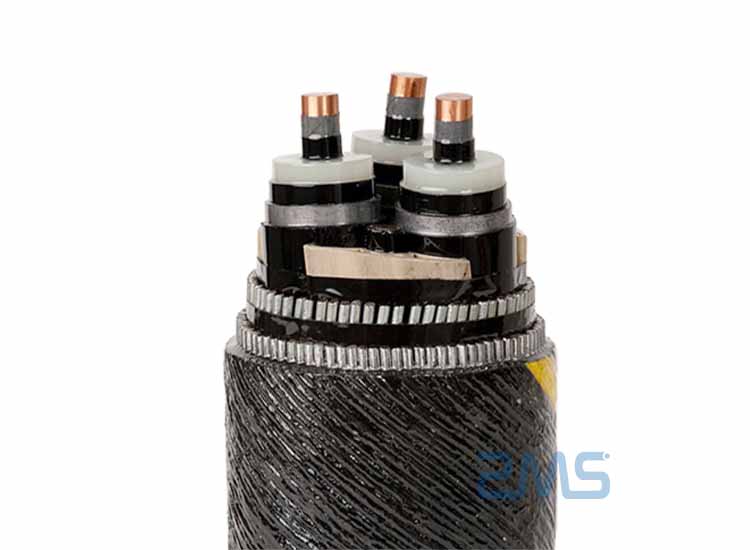 Construction:
Voltage level: 6/10 (12) KV, 12/20 (24) KV, and 18/30 (36) KV, etc.
Conductor: Copper conductor, circular stranded compacted, water blocked.
Conductor Screening: Extruded semi-conductive compound.
Insulation: XLPE.
Insulation Screening: Extruded semi-conductive compound.
Waterproof Layer: semi-conductive waterproof tape
Screen: Copper wires and copper helix, swelling powder.
Laminated Core Sheath: Al. laminated tape bonded to overlaying 8.PE sheath
Fillers: Polypropylene filler.
Fibrotic Element: Fiber optic cable.
Separator: Binder tapes.
Bedding Layer: Polypropylene strings.
Armour: Galvanized steel wires.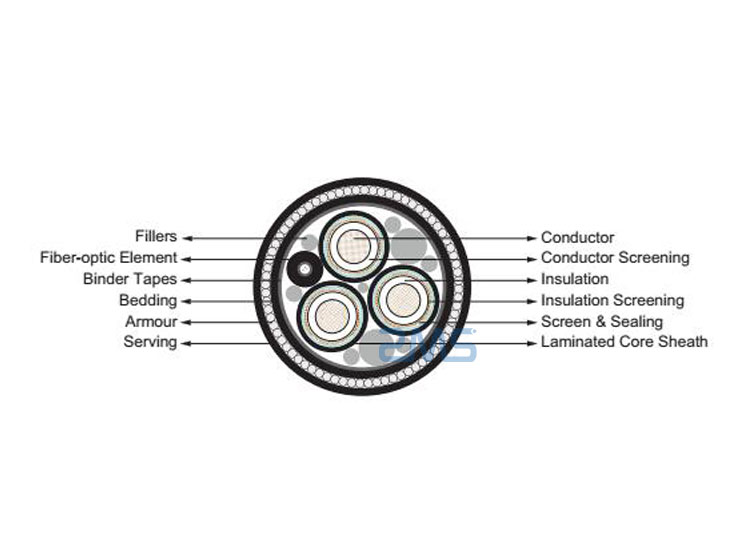 High voltage submarine power cable
Product 2 --- Lead Sheathed AC High-Voltage Submarine Cable
This submarine cable is suitable for high voltage power transmission. We design and produce submarine cables of various cable grades, focusing on continuous, extra long production lengths and availability of cable accessories. We also provide targeted solutions for cable systems and offshore installations.
Standard
IEC 60228; IEC 60502;IEC 60840; IEC 62067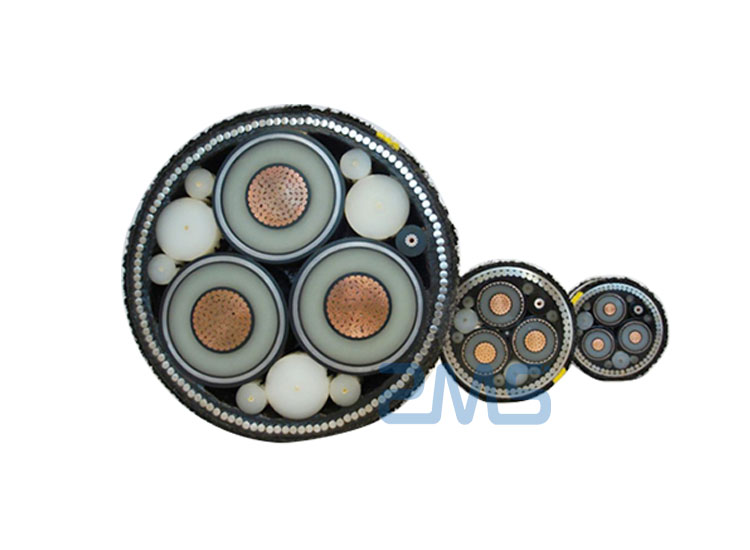 Construction:
Voltage level: 26/45(52)KV, 38/66(72.5)KV, 64/110(123)KV, 76/132(145)KV, 87/150(170)KV, 127/220(245)KV, 160/275(300)KV, etc.
Conductor: Copper conductor, Water blocked.
Conductor Screening: Extruded Semi-conductive Compound.
Insulation: XLPE.
Insulation Screening: Extruded Semi-conductive Compound.
Separator: Swelling Tape.
Core Sheath1: Lead Sheath.
Core Sheath2: Semi-conductive PE Sheath.
Fillers: Polypropylene Filler.
Fibrotic Element: Fiber Optic Cable.
Separator: Binder Tapes
Bedding: Bedding Layer.
Armour: Galvanized Steel Wires Filled With Bitumen Compound.
Serving: Polypropylene Yarn.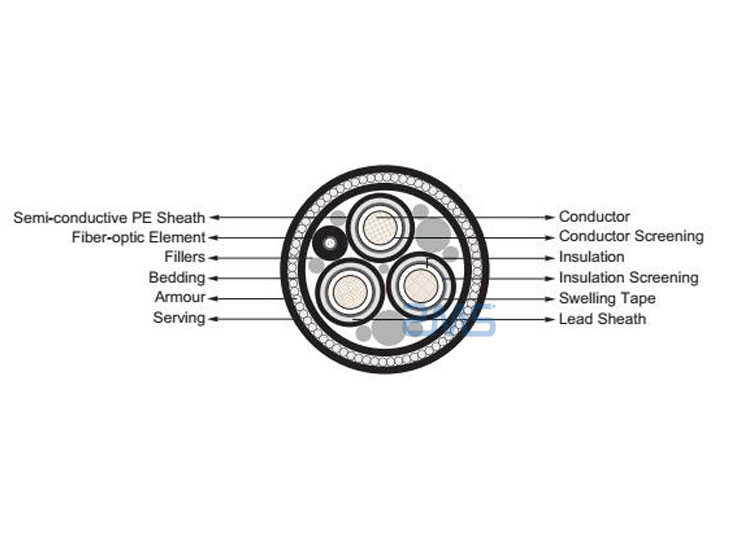 Customize Submarine Cables to Fit Scenarios
Customized Cable Solutions
ZMS submarine cables are manufactured according to GB, IEC and other international standards and include a wide range of industry applications, although there is sometimes a need to customize cables or customized cable solutions to the needs of the application. These different applications require subsea cables to be used on different transmission lines, lakes and oceans, and in particular Marine environments under various conditions. Our technical team can work with you to customize a cable to meet your specific application needs.
Submarine Cable---Offshore Oil Gas & Petrochemical Cable
In the past few years, offshore oil's share in the demand for submarine power cables has been increasing. The depletion of onshore crude oil reserves has forced the promotion of offshore drilling services. Due to the complexity of the entire offshore drilling process, the special work requirements for submarine cables are also increasing. With the continuous experiments and efforts of our engineers, we have also gradually improved submarine cables to further meet the special working needs of submarine cables in special environments.
If you don't know how to choose the products you need, or don't find the cable type and size you need on this page, don't worry. Contact us and send us your requirements, we can help you choose the right cable. You can provide us with the following information: cable voltage, conductor material, insulation and sheath material, shield type, armor type, etc. or you can provide us with cable installation environment, application requirements, etc. We will serve you wholeheartedly. ZMS Cable Supplier has a number of quality certification: ISO 9000, ISO 9001, ISO14000, ISO14001, ISO18000, CE, IEC, BS, NFC, ASTM, DIN, etc.
ZMS special cables are used for special tasks. Our range of oil, gas and petrochemical cables covers almost all industry applications. From mobile offshore drilling platforms, floating production storage and unloading platforms to onshore drilling and processing plants, docks and more. Our cables ensure the safe and efficient operation of critical infrastructure and equipment.
ZMS has a wide range of cable and conductor products for you to choose from. We will provide caring services and professional project solutions for everyone who needs them.
Quality Certification Services
ZMS cable products are manufactured according to GB, IEC, BS, NFC, ASTM, DIN, and other international standards. Our technical team can customize cable products that meet your requirements according to your need.
Profession Customer Service
ZMS provide free professional consulting services to provide you with one-stop project solution services and rapid product delivery solutions.
Delivery And Shipping Services
While we ZMS provide high-quality cables, we also provide good delivery solutions. While ensuring the safe delivery of products, we provide the best packaging and transportation solutions, greatly reducing customers' transportation costs.
ZMS cables packaging are provided in the form of wooden reels, corrugated boxes and coils. The cable ends are sealed with BOPP self-adhesive tape and a non-hygroscopic sealing cap to protect the cable ends from moisture. We can print the required marks on the outside of the barrel with waterproof material according to customer requirements.