Coaxial Cable - MIL-C-17F RG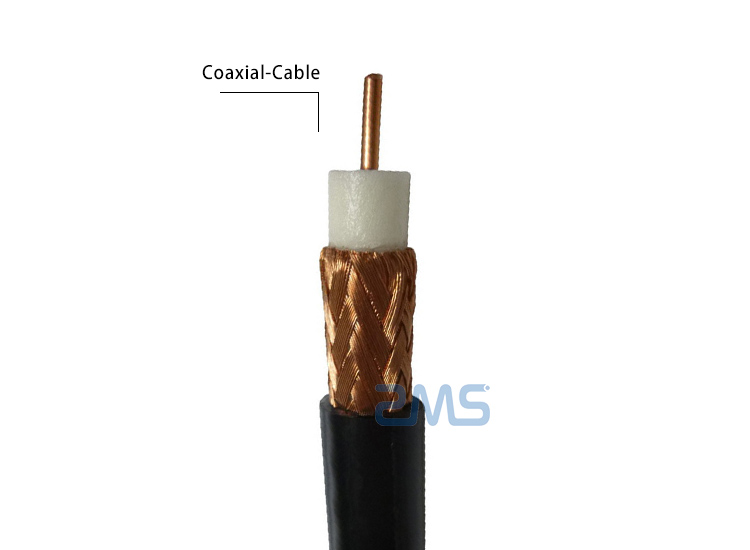 Coaxial cables are used as transmission cables for radio frequency signals. Common applications for coaxial cables include video and CATV distribution, RF and microwave transmission, and computer and instrument data connections.
A coaxial cable is made up of concentric electrical conductors and a layer of insulating material. This structure ensures that the signal is enclosed in the cable and prevents external interference with the signal.
Description of ZMS Cable Products
MIL-C-17F RG 58 C/U 50 Coaxial Cable
Coaxial cables are used for broadband transmission of radio, television, video, and data signals. Suitable for levels up to GHz-a, with low attenuation and low signal distortion. RG58 coaxial cable is used for the instrument. Connection in two-way radio systems and for measuring equipment. Low-dielectric-constant polyethylene enables high-speed signal diffusion and good installation flexibility. Permitted only indoors, especially outdoors, and protect from sunlight.
Standard
MIL-C-17F, MIL-C-17G
Construction
Inner Conductor: Tinned Copper, Fine Wired Stranded, Diameter 0.9 ± 0.01 mm, 19 × 0.18 mm
Insulation (Dielectric): Polyethylene, External Diameter 2.95 ± 0.05 mm
External Conductor: Braid Of Tinned Copper Wires 0.10 mm, 96% Optical Overlap
Sheath: PVC, External Diameter 4.95 ± 0.10 mm
Sheath Color: Black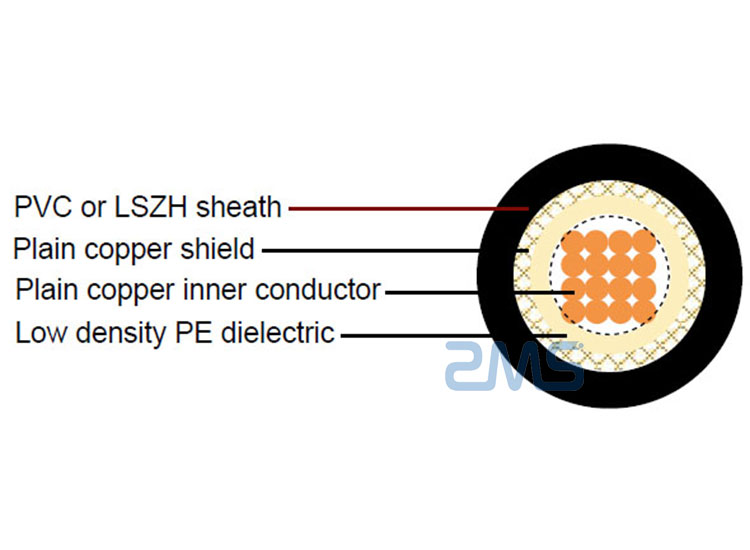 MIL-C-17F RG 6 Coaxial Cable
RG-6 coaxial cable is commonly used in equipment. Low dielectric constant foamed polyethylene can achieve high-speed signal diffusion, and has good installation flexibility. It can be used flexibly indoors and outdoors, or it can be used in the wall.
Standard
MIL-C-17F, MIL-C-17G
Construction:
Inner conductor copper-clad steel (CCS) Φ1.02 mm
Dielectric foam PEΦ4.57 ± 0.20 mm
Tape Shield (shield 1) bonded aluminum/polyester
Shield coverage 100%
Outer conductor (shield 2) aluminum 96 × 0.12 mm
Shield coverage rate 82%
Sheath PVC or LSZHΦ6.91 mm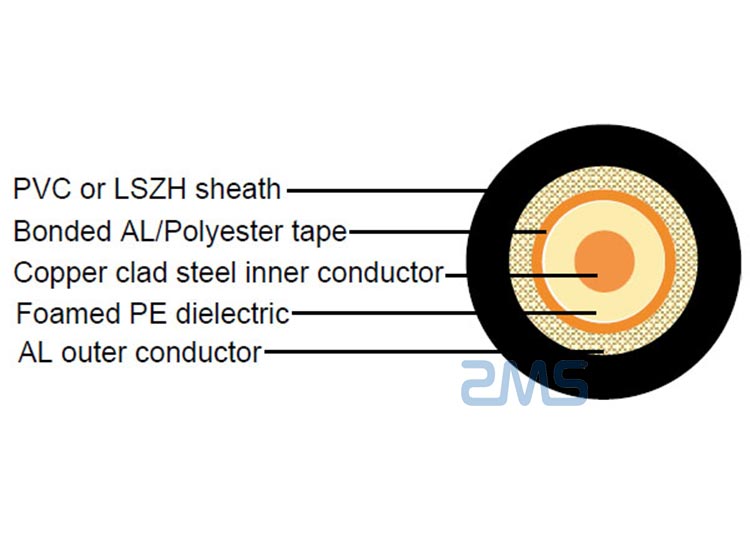 Do you want to know more product details?
If you don't know how to choose the products you need, or don't find the cable type and size you need on this page, don't worry. Contact us and send us your requirements, we can help you choose the right cable. You can provide us with the following information: cable voltage, conductor material, insulation and sheath material, shield type, armor type, etc. or you can provide us with cable installation environment, application requirements, etc. We will serve you wholeheartedly. ZMS Cable Supplier has a number of quality certification: ISO 9000, ISO 9001, ISO14000, ISO14001, ISO18000, CE, IEC, BS, NFC, ASTM, DIN, etc.
ZMS has a wide range of cable and conductor products for you to choose from. We will provide caring services and professional project solutions for everyone who needs them.
Quality Certification Services
ZMS cable products are manufactured according to GB, IEC, BS, NFC, ASTM, DIN, and other international standards. Our technical team can customize cable products that meet your requirements according to your need.
Profession Customer Service
ZMS provide free professional consulting services to provide you with one-stop project solution services and rapid product delivery solutions.
Delivery And Shipping Services
While we ZMS provide high-quality cables, we also provide good delivery solutions. While ensuring the safe delivery of products, we provide the best packaging and transportation solutions, greatly reducing customers' transportation costs.
ZMS cables packaging are provided in the form of wooden reels, corrugated boxes and coils. The cable ends are sealed with BOPP self-adhesive tape and a non-hygroscopic sealing cap to protect the cable ends from moisture. We can print the required marks on the outside of the barrel with waterproof material according to customer requirements.