Underground Armored Cable — SWA/AWA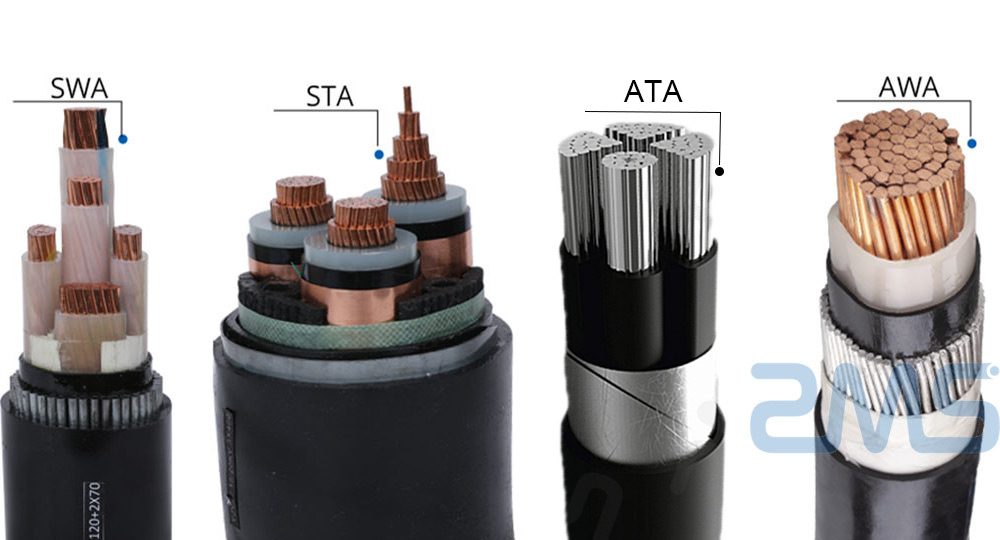 ZMS manufactures armored cables that are made of high-quality steel or aluminum. We supply high-quality armored cables to the world. We can manufacture a variety of rugged low voltage armored cables or medium voltage armored cables according to British, American, European, and international standards, etc. Armor cables are suitable for applications that are buried directly underground and require additional mechanical protection and superior tensile loading. We are well-known cable manufacturers in the world.
Types of underground armored cable are :
SWA (steel wire armored) cable, STA (steel tape armored) cable, AWA (aluminum wire armored), and ATA (aluminum tape armored). It is suitable for underground or outdoor cables with single or multiple core conductors. Like Copper single/multicore armored cable or Aluminum single/multicore armored cable.
The Underground Armored Cable mechanical protection layer can be added to any structure of the cable. To increase the mechanical strength of the cable and improve the ability to prevent corrosion. It is a cable designed for areas subject to mechanical damage and erosion. Can be laid in any way, more suitable for direct buried laying in rocky areas.
Steel Wire Armored Cable — SWA
SWA(Steel Wire Armored) cable is a high-strength, abrasion-resistant cable whose structure provides additional mechanical protection for itself. Armoring reduces the risk of the cable being torn or crushed. Generally, SWA cables exist in underground systems, power networks, cable ducts, outdoor installations, power control systems, etc.
Aluminum Wire Armored Cable — AWA
AWA(Aluminum Wire Armored) cable is used for single-core cables because it is non-magnetic. So when a current passes through the cable, a magnetic field is generated (the higher the voltage, the larger the magnetic field). The magnetic field will induce a current (eddy current) in the steel armor, which may cause the AC system to overheat. Non-magnetic aluminum armored cables prevent this from happening.
Characteristics of Armored Cables
An armored cable mechanical protection layer can be added to any structure of the cable to increase the mechanical strength of the cable and enhance the erosion resistance. It is a special cable designed to avoid mechanical damage and erosion-prone areas. It can be laid in any way and is suitable for direct burial in rocky areas. Simply put, the armored cable is also known as an underground power cable. The purpose of power line transmission cable with armor layer is not only to enhance the tensile strength, compressive strength, and other mechanical protection to extend the service life. The armor has the necessary resistance to external forces and can also put some rats to tear. To ensure that the power transmission problem is caused through the armor, the bending radius of the armor should be larger, and the armor layer can be grounded to protect the cable.
If you don't know how to choose the cable products you need, or don't find the cable type and size you need on this page, don't worry. Contact us and send us your requirements, we can help you choose the right cable. You can provide us with the following information: cable voltage, conductor material, insulation and sheath material, shield type, armor type, etc. or you can provide us with cable installation environment, application requirements, etc. We will serve you wholeheartedly. ZMS Cable Supplier has a number of quality certifications: ISO 9000, ISO 9001, ISO14000, ISO14001, ISO18000, CE, IEC, BS, NFC, ASTM, DIN, etc.
ZMS has a wide range of cable and conductor products for you to choose from. We will provide caring services and professional project solutions for everyone who needs them.
Quality Certification Services
ZMS cable products are manufactured according to GB, IEC, BS, NFC, ASTM, DIN and other international standards. Our technical team can customize cable products that meet your requirements according to your need.
Profession Customer Service
ZMS provide free professional consulting services to provide you with one-stop project solution services and rapid product delivery solutions.
Delivery And Shipping Services
While we ZMS provide high quality cables, we also provide good delivery solutions. While ensuring the safe delivery of products, we provide the best packaging and transportation solutions, greatly reducing customers' transportation costs.
ZMS cables packaging are provided in the form of wooden reels, corrugated boxes and coils. The cable ends are sealed with BOPP self-adhesive tape and a non-hygroscopic sealing cap to protect the cable ends from moisture. We can print the required marks on the outside of the barrel with waterproof material according to customer requirements.