NYCY power cables are used in industry, power distribution cabinets, power plants, in-plant connection boxes, and street lighting, and also as control cables for control transmission of impulses and test data. The use of fully increased electrical and mechanical protection is required. This cable can be laid outdoors, underground, in water, indoors, or cable ducts.
ZMS Cables is a leading manufacturer of high-quality cables for a wide range of applications. Our state-of-the-art manufacturing facilities and a team of skilled engineers and technicians enable us to produce cables that meet the highest standards of performance and durability. This includes NYCY cable and other cables in the same fixed wiring family, such as NYCWY cables. Contact us today and ZMS Cables can provide the cable solution you need at a competitive price.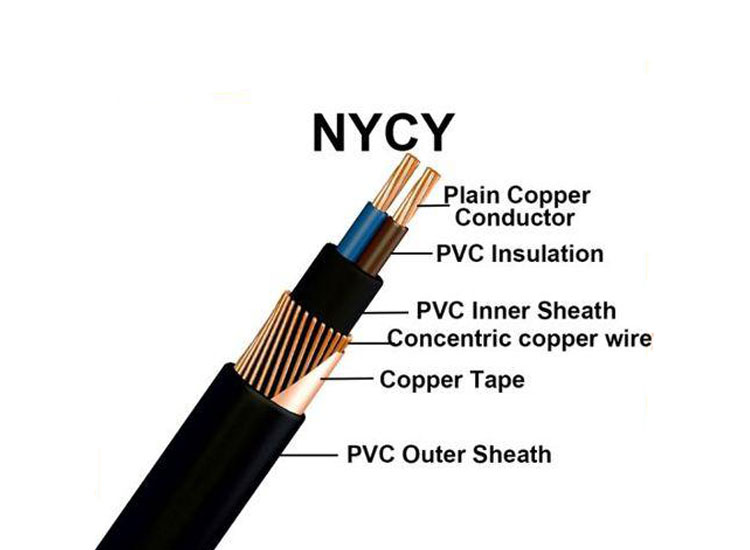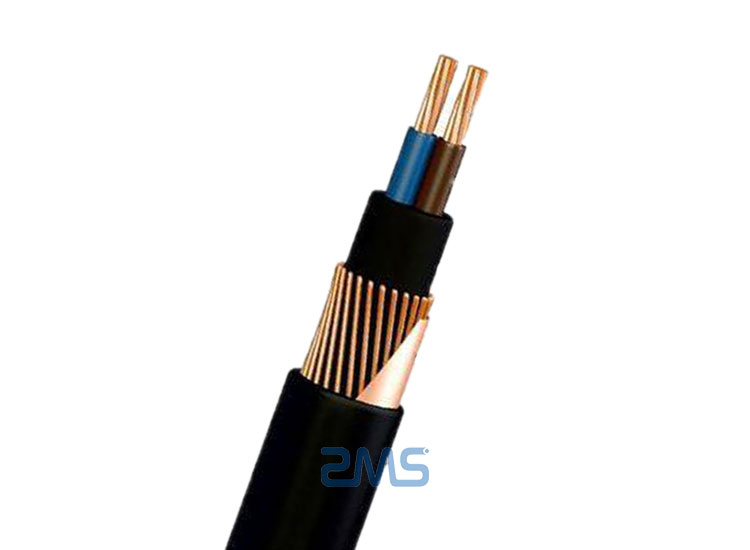 Conductor: Multi-strand bundle twisted fine wire conductor according to VDE 0295 and IEC 60288 category 1 conductor.
Insulation: Special PVC mix.
Cores: Cores stranded into cables, core colors according to VDE 0293.
Colored or coded cores, 3 or more cores with yellow and green bicolor wires (optional).
Inner sheath: special PVC mix.
Concentric spiral ground wire: external spiral conductor stranded by bare copper wire. Cross-conducting copper tape connection, counter spiral.
Outer sheath: special PVC mix.
Color of outer sheath: black, various colors can be selected according to customers' needs.
NYCY Technical Characteristics
Working voltage: 600/1000 V
Test voltage: 4000 V
Dynamic bending radius: 15 x Ø
Static bending radius: 12 x Ø
Operating temperature during application: -5º C to +50º C
Fixed installation temperature: – 40º C to +70º C
Temperature reachable in case of short circuit: +160º C
Flame retardant: IEC 60332.1
Insulation resistance: >100 MΩ x km
NYCY Cable Characteristics

The long-term operating temperature of the cable should not exceed 70º C
Bendability, humidity resistance
Can withstand moderate mechanical stress
The concentric spiral ground wire can reduce inductance
Direct burial: when the PVC cable in question is buried directly without additional, appropriate underground protection: normal minimum installation depth is 0.6 m, but at least 0.8 m under the road
When used in concrete: the cable can be used in concrete at a maximum cable operating temperature of +70°C
In water: no more than 2 weeks at a time, maximum submersion depth of 10 meters, only in static water / no shipping traffic in the water body
Flame retardant: flame-retardant and self-extinguishing by IEC 60332-1
ZMS has a wide range of cable and wire products for you to choose from. We will provide caring services and professional project solutions for everyone who needs them.
Quality Certification Services
ZMS cable products are manufactured according to GB, IEC, BS, NFC, ASTM, DIN, and other international standards. Our technical team can customize cable products that meet your requirements according to your need.
Profession Customer Service
ZMS provide free professional consulting services to provide you with one-stop project solution services and rapid product delivery solutions.
Delivery And Shipping Services
While ZMS provides high-quality cables, we also provide good delivery solutions. While ensuring the safe delivery of products, we provide the best packaging and transportation solutions, greatly reducing customers' transportation costs.
ZMS cables packaging are provided in the form of wooden reels, corrugated boxes and coils. The cable ends are sealed with BOPP self-adhesive tape and a non-hygroscopic sealing cap to protect the cable ends from moisture. We can print the required marks on the outside of the barrel with waterproof material according to customer requirements.