Overhead Cable---ABC(Aerial Bundled Conductor)Cable
ZMS ABC(Aerial Bundled Conductor) Cable has excellent electrical performance, strong short circuit resistance, long service life, lightweight, easy installation, operation, and maintenance.
It is widely used in most of the world. Types of overhead cable line is an Aerial Bundled Cable, which is different from an overhead bare conductor cable.
Bare cables are insulated with air and used for medium and high voltage power transmission.
ABC cables are insulated and wrapped with a neutral conductor and are tightly bundled together. It is often used for medium and low-voltage power transmission.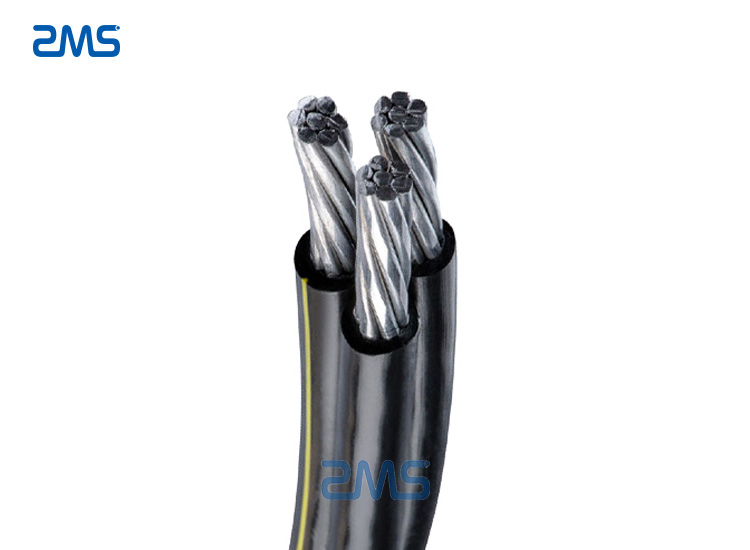 Description of ZMS Overhead Power Lines Products
0.6/1kV Low Voltage ABC Cable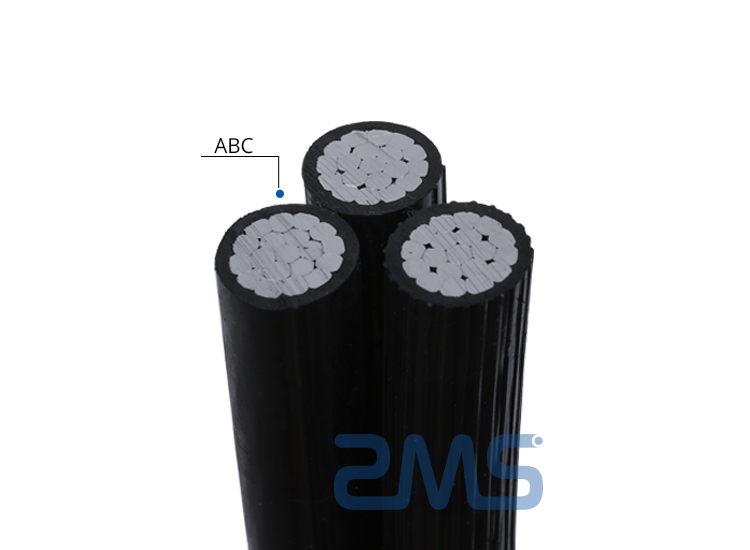 Low-voltage ABC cable, designed for overhead power lines and room entrance wires with a rated AC pressure of 1kv and below. It has less installation, maintenance, and operating costs, which can achieve greater economic loss and provide higher security and reliability.
Standard:
IEC 61089, BS 7870, DIN 48201, ASTM B399, BS EN50183, NFC33-209
Construction:
Conductor: Copper, Aluminum, Aluminum Alloy
Insulation: PVC, HDPE, XLPE
6.5-35KV Medium Voltage ABC Cable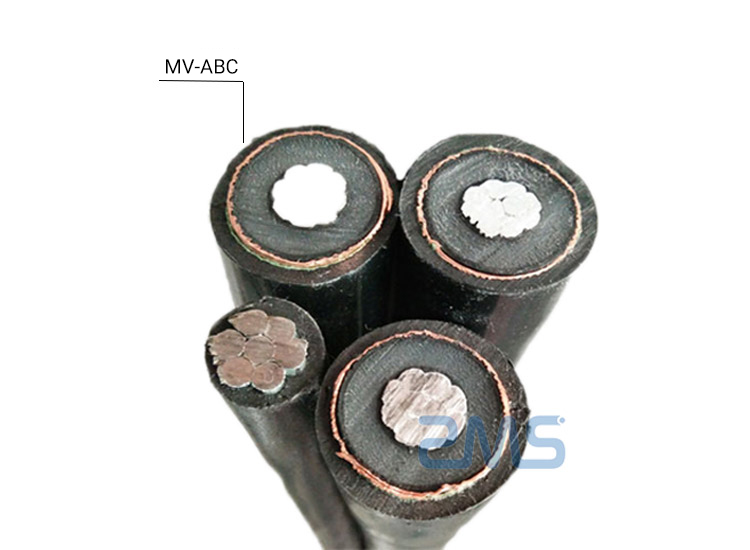 Medium voltage ABC overhead cables are widely used in urban, forest, and coastal areas for power grid transformation and are used for overhead power transmission. ZMS's medium voltage cables are designed to build a more reliable, efficient, and cost-effective system. We evaluate the quality and technical specifications to ensure that our cable systems are adapted to your distribution network standards.
Applicable Voltage Level
10kv and below, 6.35/11kv, 12.7/22kv, 19/33kv, etc
Standard
IEC60502, NF C33-209, GB 12527-90 ASTM
Construction:
Conductor Material: Aluminum
Conductor Shape: Circular stranded (RM)
Outer Sheath: HDPE
Duplex / Triplex Service Drop Wire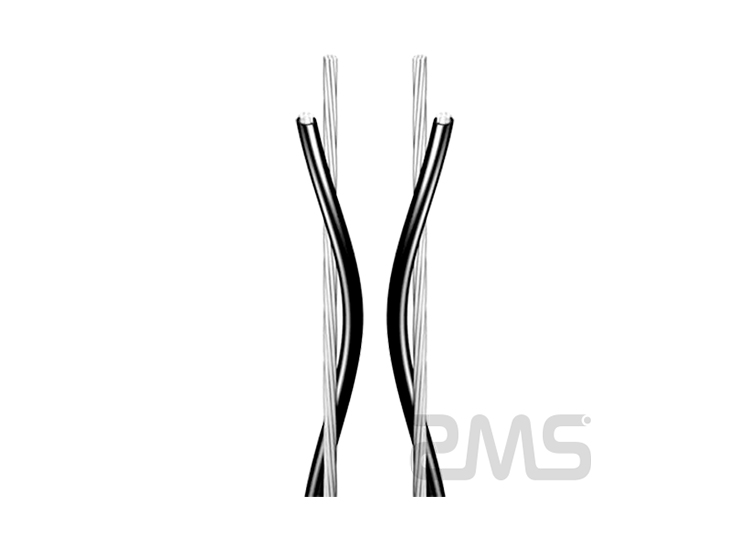 Duplex Service Drop Wire, its main composition is 1350-H19 aluminum with phase conductors concentrically twisted and PVC or XLPE for insulation. The neutral core is made of concentrically twisted AAC, ACSR, or 6201 aluminum alloy. Mainly used for 120V overhead service applications. Such as street lighting, outdoor lighting, and building temporary services. The voltage between the phases is 600V and below. The conductor temperature of PVC insulated conductors does not exceed 75 °C, and the conductor temperature of XLPE insulated conductors does not exceed 90 °C.
Standard
ASTM B230, B231, B232 and B-399, B498, ICEA S-76-474
Construction
Conductor: Aluminum, Aluminum Alloy
Insulation: PVC, XLPE
ZMS ABC Aerial Cable Specification
Product Name

Aerial Cable

Model

JKTRYJ; JK(L)YJ; JK(L)Y; JKLGYJ; JKLGY; JKLYJ/Q; JKLY/Q; JKLGYJ/Q; JKLGY/Q;

JKLGYJ / JKV / JKLV / JKLHV / JKY / JKLY / JKLHY / JKYJ / JKIYJ / JKLHYJ / JKTRYJ 

Section ( aluminum / steel ) mm2

10-240mm2 10/2-500/65 ( JKLGYJ-10 ) 25-240 25-120 ( JKYJ JKTRYJ )

Insulation

cross-linked polyethylene(XLPE) insulated, covered for weather proofing with polyethylene(PVC), high density polyethylene(HDPE)

Conductor

HD Copper Wire, 1350-H19 Aluminum Wire ,or ACSR conductors, concentrically stranded

Standard

GB/T12527-2008 GB/T1179-2008 GB/T14049-2008 / IEC 60502 / IEC 60227

If you don't know how to choose the products you need, or don't find the cable type and size you need on this page, don't worry. Contact us and send us your requirements, we can help you choose the right cable. You can provide us with the following information: cable voltage, conductor material, insulation and sheath material, shield type, armor type, etc. or you can provide us with cable installation environment, application requirements, etc. We will serve you wholeheartedly. ZMS Cable Supplier has many quality certifications: ISO 9000, ISO 9001, ISO14000, ISO14001, ISO18000, CE, IEC, BS, NFC, ASTM, DIN, etc.
Characteristics of Aerial Bundled Cables
Overhead insulated cables are composed of copper or aluminum conductors, an inner shielding layer, weather-resistant insulating material, and an outer shielding layer. Aerial insulated cables have not only the power transmission characteristics of power cables but also the strong mechanical characteristics of overhead cables. Compared with bare wires, overhead insulated cables have many advantages such as a small laying span, high reliability, and good anti-aging performance. They are the types of cables that are actively selected for urban power projects.
1. The rated voltage of the aerial bundled cable is 0.6/1KV, 10KV, and 35KV respectively.
2. The cable laying temperature should be no less than -20℃. Not more than 5S when running in a short circuit.
3. Cable high temperature: cross-linked polyethylene insulation 250℃, high-density polyethylene SK insulation 150℃, polyvinyl chloride insulation 160℃.
4. Cable conductor long-term allowable working temperature: PVC insulation should not exceed 70℃, polyethylene should not exceed 70℃, and cross-linked polyethylene insulation should not exceed 90℃.
Cable bending radius: single-core should be not less than 15 times the outer diameter of the cable, and multicore should be not less than 10 times the outer diameter of the cable.
Advantages of the Aerial Bundled Cable Produced by ZMS
1. High reliability of the power supply system, the choice of aerial cables can significantly reduce a variety of short-circuit fault common failures (especially the common short-circuit fault common failures of bare transmission lines). It is compared with the airframe bare transmission line, the equipment failure rate is 4-6 times lower.
2. The power supply system safety factor is good, the choice of aerial cable so that personal safety electrocution accident safety accidents are significantly reduced. When the aerial cable is connected to the power supply, when the body or other small animals accidentally touch the surface of the cable line insulation layer, if the cable line is not penetrated, it is not easy to cause adverse effects on people and animals.
3. Our overhead bundle cable is easy to build and overhaul, the overhead cable can be built on all types of tower poles. It can also be erected along the wall, and in special cases can also be shuttled in the woods, immediately fixed immovably on the main pole with gold tools.
4. The reasonableness of effective, although the choice of overhead cable than the choice of empty frame bare transmission line in the price should be more expensive, but cheaper than the general underground installation of the cable line. Therefore, its comprehensive engineering cost is lower, more economic development, more effective.
ZMS has a wide range of cable and conductor products for you to choose from. We will provide caring services and professional project solutions for everyone who needs them.
Quality Certification Services
ZMS cable products are manufactured according to GB, IEC, BS, NFC, ASTM, DIN and other international standards. Our technical team can customize cable products that meet your requirements according to your need.
Profession Customer Service
ZMS provide free professional consulting services to provide you with one-stop project solution services and rapid product delivery solutions.
Delivery And Shipping Services
While we ZMS provide high quality cables, we also provide good delivery solutions. While ensuring the safe delivery of products, we provide the best packaging and transportation solutions, greatly reducing customers' transportation costs.
ZMS cables packaging are provided in the form of wooden reels, corrugated boxes and coils. The cable ends are sealed with BOPP self-adhesive tape and a non-hygroscopic sealing cap to protect the cable ends from moisture. We can print the required marks on the outside of the barrel with waterproof material according to customer requirements.