---
Prysmian Wins €800 Million Order to Connect Offshore Wind Farms to The Onshore Grid
Offshore wind power has been one of the hottest topics in recent years. As a new mode of power generation that is gradually emerging, it will also be faced with various opportunities and challenges.
The Prysmian Group is known to have been awarded two major contracts worth a total of more than 800 million euros.
These include one signed by Amprion Offshore GmbH, a subsidiary of the German transmission system operator Amprion, for the design, supply, installation, and commissioning of onshore and submarine cables for the grid-connected systems of two offshore wind farms in the German North Sea. Namely DolWin4 and BorWin4.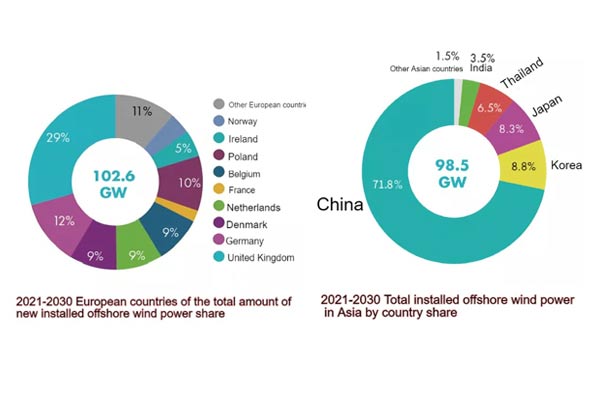 Offshore wind power, refers to offshore wind farms are offshore wind power in water depths of about 10 meters.
According to the statistical analysis of the ZMS cable team, in recent years, the global installed capacity of offshore wind power has continued to grow.
In 2021, the global offshore wind power installed a capacity of 21.1GW, creating a historical record. The total global installed capacity of offshore wind power reached 57.2 GW.
And the DolWin4 and BorWin4 projects will together transmit 1.8 GW of power capacity.
Prysmian will supply approximately 1,000 km of HVDC high-voltage DC 320 kV single-core XLPE insulated copper cable.
Let's First Understand What is a High Voltage DC Insulated Cable
Cross-linked polyethylene insulated power cable conductors with high operating temperature, high transmission capacity, and excellent electrical performance.
Advantages such as simple installation and laying of electrical accessories, so it is widely used in today's power system.
The cable is suitable for a frequency-rated voltage of 64/110kV (Um=126kV), a center point directly grounded transmission line system.
Use characteristics
1. The permissible long-term high temperature of the conductor during normal operation of the cable is 90℃.
2. The allowable high temperature of the cable conductor during a short circuit (long duration not exceeding 5 seconds) is 250℃.
3. The small bending radius allowed during cable installation is generally 25 times the diameter of the cable.
4. The cable is not restricted by the drop when laid.
5. When laying below 0℃, the cable must be pre-warmed.
Uses and Advantages
Compared with the AC transmission system, the DC transmission system has the advantages of large transmission capacity and long transmission distance.
In addition, DC transmission systems are fast and flexible in power regulation, have a low risk of interlocking faults in a wide range, and are more reliable in operation.
As an important part of the DC transmission system, high-voltage DC cables are widely used in wind power grid integration, island power supply, and long-distance transmission across the sea.
Studies have shown that HVDC cables have cost advantages in cable projects with transmission distances greater than 40 km, and the longer the distance, the more obvious the advantages.
As one of the key pieces of equipment in DC transmission, the safe operation of high-voltage DC cables is crucial to the stability of the high-voltage transmission grid.
Therefore, the submarine cables under this contract will be manufactured in Pikkala, Finland, and Arco Felice, Italy. The land-based cables will be manufactured in Gron, France, and Abbeville, USA.
Before this, the ZMS cable team learned that by the end of the year, 14,384 megawatts of cumulative installed capacity of offshore wind power had been built worldwide.
Among them, 2,219 MW of new installed capacity was added in 2016, up 18.2% year-on-year.
The share of global offshore wind power in total installed wind power capacity rose from 1.73% in 2011 to 2.96% in 2016.
By the end of the year, a dozen countries around the world had built offshore wind farms.
Among them, European countries occupy 10 seats, and Asian countries are dominated by China, Japan, and South Korea.
The United States offshore wind power achieved zero breakthroughs in 2016.
By region, Europe is still the global leader in the offshore wind industry, with the UK, Germany, and Denmark performing most prominently.
Currently, the UK is the leading country in offshore wind power.
The UK's cumulative installed offshore wind power capacity has reached 5,156 MW, accounting for 35.8% of the world's total installed offshore wind power capacity.
China's cumulative installed offshore wind power capacity exceeded 1,500 MW, ranking among the world's top three.
Asia-Pacific region in addition to China, Japan, and South Korea offshore wind power also developed in 2016, ranking among the top 10 countries with global offshore wind power.
Portugal's 2 MW prototype was retired in 2016, returning the cumulative installed capacity of offshore wind to zero.
From the stand-alone capacity of the unit, the large-scale offshore wind turbine is an inevitable trend in the future development of offshore wind power.
According to the Global, Wind Energy Council is expected to add more than 235GW of offshore wind power installed worldwide in the next decade.
So that the cumulative installed capacity of offshore wind power in 2030 to 270GW.
30% of these new installations will be lifted in 2021-2025, and the rest in 2026-2030.
From 2020-2025, the global annual installed offshore wind capacity is expected to expand more than threefold.
from 6.1 GW to 23.1 GW, increasing its share of total global wind power additions from the current 6.5% to 20% by 2025.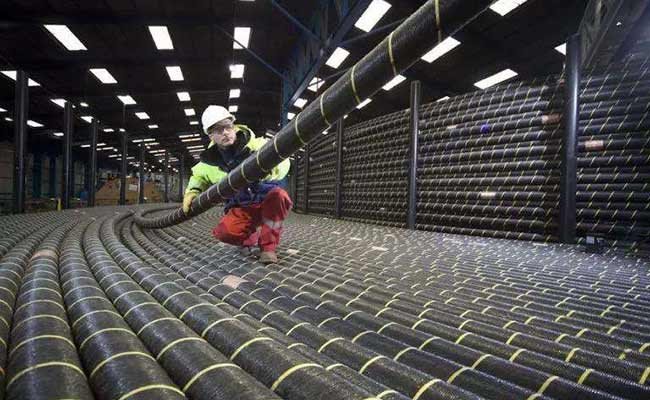 In 2003, Japan built its first offshore wind project in Asia with a size of 1.3MW.
However, the offshore wind market in Asia did not take off until 2014 when China's National Energy Administration released a program for offshore wind development and construction.
In 2018, the annual installed capacity of offshore wind in Asia exceeded 1.5GW, and China overtook the UK as the largest market in terms of new installations.
In 2020, Asia replaces Europe for the first time as the leader in the global market for new offshore wind installations.
Prysmian will install subsea cables on state-of-the-art vessels to ensure the lowest possible environmental impact. Delivery and commissioning of both projects are scheduled for 2028.
Each cable system consists of 2 HVDC cables with the capacity to transmit 900 MW of power.
On the land side, both systems operate in the underground cable corridor leading to 300 km of A-Nord.
The submarine cable will pass from the offshore platform through the "Niedersächsisches Wattenmeer" national park, cross the island of Nordny and then connect to the onshore cable near Hilgenriedersiel.
This is Prysmian's first 320 kV HVDC subsea project in cooperation with Amprion Offshore GmbH.
Through this project, it is possible to understand that offshore wind power is a decision that Prysmian made because of certain benefits.
Offshore wind is so beneficial that many people are predicting that it will be the backbone of sustainable energy in recent years. But the road to offshore wind power is still very difficult and there is a long way to go!
Why is The Road to Offshore Wind Power Very Difficult?
1 Development Difficulties
Although the current development prospects of offshore wind power are very good, its development is much more difficult than onshore wind power.
This is because offshore wind power technology lags behind onshore wind power generation by nearly 10 years.
At the same time, in offshore wind power compared to the solar industry, the technical threshold is higher.
In terms of grid support, the technology to accept large-capacity wind power has not yet broken through.
The conflict of benefit sharing with conventional power sources has not been resolved.
Therefore, it is still very difficult to carry out large-scale industrial construction.
First, the offshore wind farm construction pre-construction work is very complex.
It is necessary to erect 70 meters or even 100 meters of wind measurement towers at sea and to make field observations of the seafloor topography and its movement, engineering geology, and other basic conditions.
More critically, the individual capacity of offshore wind turbines is much larger.
Requirements for wind turbine corrosion prevention are more stringent, and the slightest defect will cause the unit to stop.
2 Typhoon Problem
Offshore wind power also faces the test of typhoons.
In 2006, typhoon "Sanmei" landfall, and the center of the typhoon hit the Cangnan wind farm head-on.
This led to 28 wind turbines down 20, almost a devastating blow to the wind farm.
3 The Cost is Too High
Currently, the cost of offshore wind power is very high.
Offshore wind farms are divided into intertidal and medium and deep waters.
Compared to onshore wind farms, the main problems faced by offshore wind farms are high cost, complex environment, the need for higher reliability, and offshore power support measures.
It is understood that the average cost of a land-based wind power project is 8000 yuan / kW.
Among them, the cost of wind power generation equipment is about 5,000 yuan/kilowatt.
The cost of offshore wind power is about 20,000 yuan / kW, which is more than twice the cost of onshore wind power.
Offshore wind power mostly uses high-voltage DC insulated cables or only such cables. With the global prevalence of offshore wind power. The demand for cables will only grow. ZMS cable suppliers said that only this year's cable exports straight to the number of previous years two or three times.
This not only refers to some poor areas but also gradually realizes the freedom of electricity.
More than that, it shows that people's need for electricity has changed from a need at the beginning to a need for stability.
Our society now needs electricity that is safe, stable, and affordable.
So the requirements for cables are getting higher and higher. This requires the relevant companies to ensure the quality and qualification of their products when providing cables.
The application range of submarine fiber optic cable can be mainly divided into; submarine light fiber optic cable, submarine light protection fiber optic cable, submarine light armored fiber optic cable, submarine single layer armored fiber optic cable, and submarine double layer armored fiber optic cable, their respective characteristics are as follows.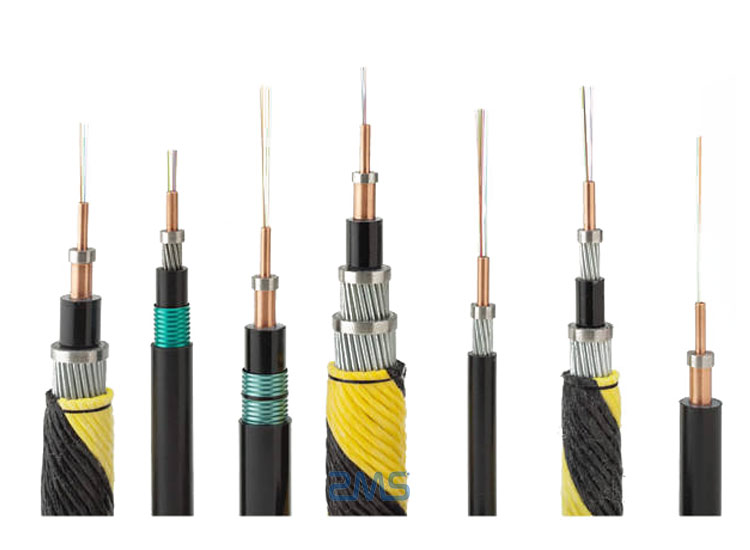 Types of Submarine Fiber Optic Cables
1 Submarine Light Fiber Optic Cable
Generally applicable to more than 1000 meters of water depth, at least up to 8000 meters of water depth of the area deployment, construction, and recovery use.
2 Submarine Light Protection Fiber Optic Cable
Generally suitable for deployment, construction, and recovery in water depths of more than 1000 meters and at least 8000 meters.
However, it has certain anti-wear and anti-fish bite abilities.
3 Submarine Light Armored Fiber Optic Cable
It is generally used for deployment, burial, construction, and recovery in the area of 20 meters water depth or more and at least 1500 meters water depth.
If not buried but only laid in the submarine indicates that it can be applied to the deployment, construction, and recycling of the area up to 2000 meters of water depth.
4 Submarine Single-Layer Armored Fiber Optic Cable
Generally applicable to more than 20 meters of water depth, at least 1500 meters of water depth area deployment, buried, construction, and recycling.
5 Submarine Double Armored Fiber Optic Cable
Generally suitable for deployment, burial, construction, and retrieval in water depths up to 500 meters, and provide the required protection at this depth.
It should have a certain weight to prevent tidal waves from moving the submarine cable.
The Prysmian contract mentioned in the article was for a high-voltage DC single-core XLPE insulated copper cable. The qualities of this type of cable are, first of all, high voltage, which can withstand voltages of about 320kv or more. Also the pressure from the deep sea bottom.
Secondly submarine cable in the seabed, in the event of leakage. The sea water is conductive, which will cause irreversible consequences. So the cable should be used insulated material.
Finally, copper conductors are used.
Aluminum wire is cheaper and more economical in price.
However, the mechanical strength of aluminum wire is poor, which brings a lot of inconvenience to the wiring construction.
The jointed wire ends are extremely easy to oxidize, and the oxidation will lead to temperature rise and poor contact, which is a frequent point of causing faults. Aluminum wire has low electrical conductivity, high electrical loss, poor tensile strength, and low corrosion resistance, and the joint parts are especially prone to oxidation.
According to statistics, from 2021-2025, the global compound annual growth rate (CAGR) of offshore wind power will be close to 30%, 12.7% by 2030, the annual installed capacity is expected to exceed 20GW in 2025, and is expected to reach 40GW in 2030.
The economic and social benefits created by offshore wind power.
Not just job creation, but also reduced public health care costs, cleaner air, and lower water consumption due to the replacement of fossil fuel power generation.
But its development is bound to be a long way off.
—ZMS Cable Group