---
—This news article is quoted from gCaptain
SubCom, a U.S.-based telecommunications company, has been awarded a $600 million contract.
It will build a more than 10,500-mile subsea fiber optic cable connecting Singapore to France through Egypt and the Horn of Africa.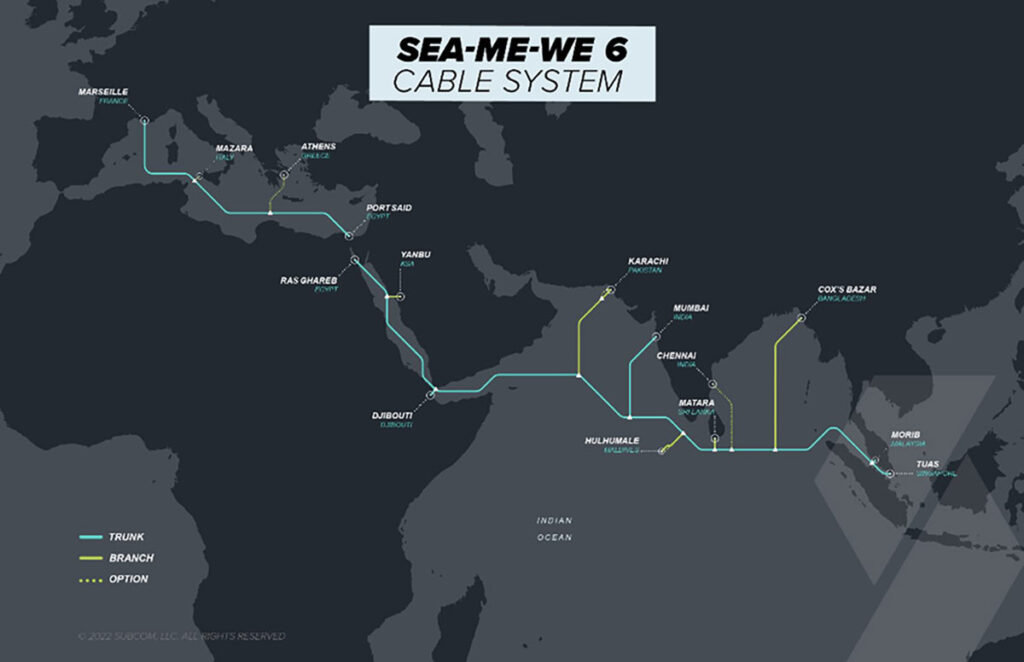 The contract was awarded as part of the Global Partnership for Infrastructure (PGII), which was launched Monday by President Biden and G7 leaders at a summit at Chateau Elmo in the German Alps.
The PGII partnership aims to mobilize $600 billion in global infrastructure investment by 2027.
President Biden will announce Monday that the United States has committed to invest $200 billion over the next five years through grants, federal financing, and leveraging private sector investment.
The Southeast Asia-Middle East-Western Europe 6 (SEA-ME-WE 6) submarine communications cable is one of PGII's flagship projects.
The underwater sea cable will extend over 17,000 kilometers and connect countries in the region with high-speed, reliable Internet connections.
The undersea cable will include branch units to 11 countries and will use SubCom's SL17-SDM cable.
The SEA-ME-WE 6 system will consist of three components.
A submarine section from Tuas (Singapore) to Ras Ghareb (Egypt), a land section from Ras Ghareb (Egypt) to Port Said (Egypt), and a section from Port Said (Egypt) to Marseille (France).
SubCom is proud to drive the design, manufacture, and deployment of SEA-ME-WE 6. The system will cover more than 11 countries and benefit hundreds of other communities.
SubCom CEO David Coughlan said in February that he agreed to a contract with the SEA-ME-WE 6 Consortium.
"We have the industry's most advanced technology portfolio and offshore installation capabilities, all of which will contribute to the success of the project on behalf of the SEA-ME-WE 6 Consortium."
The system is expected to be operational in the first quarter of 2025.
In a fact sheet, the White House said the U.S. government, including through the U.S. Department of State, the Department of Commerce Advocacy Center, EXIM, and the U.S. Trade and Development Agency (USTDA), has committed nearly $4 million in additional capacity building
to support five countries using SubCom technology, collectively helping to secure the award of SubCom's underwater sea fiber optic cable construction and deployment.